Getting older? One of the first signs of aging is the dreaded "turkey neck." It's no coincidence that author Nora Ephron titled her book about aging "I Feel Bad About My Neck."
This area is delicate because neck skin is especially thin. It can start to sag, wrinkle or look crepey as the skin loses collagen and elasticity, the neck muscles weaken and gravity starts to win out.
The best way to get rid of turkey neck is to remove excess skin through a neck lift or mini neck lift, which reduces sagging and wrinkles.
A mini neck lift is a minimally invasive surgical procedure that removes excess skin in the jowl area and under the chin to create a more contoured, youthful-looking jawline and neck. The procedure is less extensive than a traditional neck lift, with smaller incisions, fewer risks, and a shorter recovery period.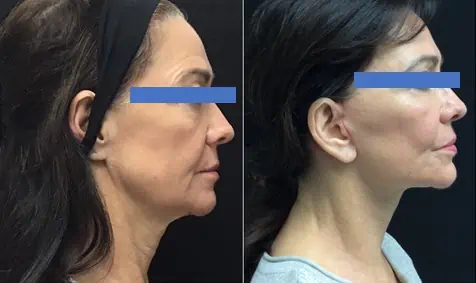 "Essentially, the difference between a mini neck lift and a full is how much dissection you do, and with the mini, you're not dissecting as much," said Dr. Juan Giachino Jr., MD, a board-certified plastic surgeon specializing in cosmetic and reconstructive plastic surgery at Water's Edge Dermatology.
He notes that surgeons may define a "mini" procedure differently, so it's important for patients to discuss their goals during the initial consultation. Many surgeons make incisions only around the ear during a mini neck lift; others may also make incisions under the chin and tighten two strips of neck muscle, called the platysma muscle, to reduce the look of verticals bands caused by muscle looseness.
Who is an ideal candidate for a mini neck lift?
A mini neck lift is an effective option for younger people whose skin is still moderately elastic and who have only a small amount of hanging skin and sagging.
"A great candidate is someone in their 40s or 50s who's just starting to get some early jowling, or recurrent jowling if they've had a neck or face lift before, and a little laxity in the front of the neck," said Dr. Giachino, Jr. Someone with a heavier, sagging neck should opt for a full neck lift.
Patients who smoke must stop for at least three weeks prior to the procedure, since nicotine impedes wound healing.
What happens during a mini neck lift?
A mini neck lift is performed under local anesthesia, with or without sedation depending on the surgeon and the needs of the patient. The procedure typically takes about an hour.
The surgeon begins by injecting a local anesthetic around the ears and hairline to numb the areas. Small incisions are made at both earlobe curves and behind the ears, extending up to the hairline. Next, excess skin is removed, and the skin is sewn back together with stitches. Some surgeons will also tighten the platysma muscle.
Mini neck lift recovery
After the procedure, the patient's neck and head is wrapped for approximately one day. The patient can shower within 48 hours. Pain is typically managed with Tylenol, although some surgeons may prescribe a pain medication for the first 24 hours. Some swelling and bruising should be expected.
"The nice part about a mini neck lift is that it's less invasive for faster healing and recovery," says Dr. Giachino, Jr.. "A full neck lift requires more downtime to recover and extended delays in resuming fitness activities."
What results can I expect?
A slimmer, more defined jawline and a smoother, crepe-free neck are visible immediately. The neck's appearance continues to improve over the next two days as swelling subsides.
Dr. Giachino, Jr. estimates that the average mini neck lift lasts up to five years, especially if you use sunscreen and avoid dramatic weight fluctuations.
"Most of the time, after five years the patient comes back in for another mini neck lift," he noted. "You can do this procedure multiple times as the skin stretches out, and the second and third time around is always easier than the first because the dissection has already been done, so there's a lot less swelling and bruising."
Although a mini neck lift lasts only half as long as a traditional neck lift, it also costs half as much.
How can I make my mini neck lift last longer?
To prolong or enhance the results, Dr. Giachino, Jr. recommends an active skin care regimen. Start with small additions, such as a prescription Retin-A product to increase collagen production if your dermatologist recommends it. Chemical peels can reduce the appearance of fine lines, which a mini neck lift cannot. Laser treatments can reduce wrinkles and also tighten the skin when it begins to sag again.
Article Written By: Kaitlin Clark, a beauty writer specializing in skin and plastic surgery content. Clark contributes regularly to a variety of major outlets including Allure, InStyle, RealSelf, Vox Media and Refinery 29, covering everything from new FDA guidelines to trending aesthetic procedures.