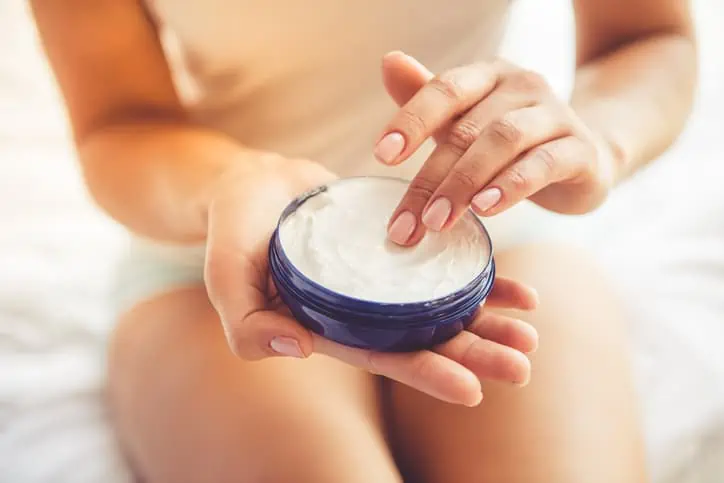 Medical Review By Jennifer Rivera, APRN
Creams, lotions, ointments — they're all more or less the same, right? Wrong. If you use one moisturizing product for everything, you could be missing out on more effective treatment, whether you're battling dry skin, oily skin, cracked heels, chapped lips, psoriasis, or other skin challenges.
To know when to use a lotion vs. a cream vs. an ointment helps to understand the differences. The ingredients vary, but all three are ultimately a combination of water and oil in different ratios. Those ratios determine how moisturizing they are, how well they prevent the body's own moisture from evaporating from the skin, and how light or heavy they feel.
Lotion vs. cream
The main difference between a lotion and a cream is the water content, which also dictates the thickness.
Lotions
Lotions contain more water than creams and are, therefore, thinner. They are typically formulated with lightweight ingredients such as hyaluronic acid, which is hydrating and skin-plumping without leaving a residue or clogging pores, resulting in more frequent applications.
Uses: Lotion is best for people with normal to oily skin and those who live in warm, humid climates. Some lotions are oil-free. Lighter moisturizing ingredients, such as glycerin and hyaluronic acid, are used instead. These can be a good choice if you have acne-prone skin.


Tip: Because they contain more water, lotions require more preservatives. If your lotion irritates your skin, it could be the preservative. Try another brand, or switch to a cream. For best absorption, apply within 5 min of showering on slightly damp skin.
Recommended products:
Elta MD UV Clear with Broad-Spectrum SPF 46 (Face: acne/rosacea/oily)
Elta MD UV Daily Broad-Spectrum SPF 40 (Face: Normal/Combination)
Vanicream Moisturizing Lotion (face and body)
Aveeno Daily Moisturizing Sheer Hydration Lotion (body)
Eucerin Advanced Repair Lotion (Body and face)
Creams
Creams are thicker than lotions because they contain more oil — typically, they are composed of about half oil and half water. They also contain heavier ingredients, such as lanolin and shea butter. Creams absorb into the skin less rapidly than lotions. Most creams come in a jar or a squeeze tube versus a pump bottle.
In addition to emollients (fats and oils that soften skin) and/or humectants (substances that hydrate the skin by attracting water from deeper layers), some creams contain occlusives, heavy ingredients that form a film, or barrier between the skin and the environment, which prevents moisture from escaping.
Uses: Reach for cream if you have dry skin, sensitive skin or you live in a cold or dry climate. Creams are also helpful for rough spots such as the elbows and heels and for dry hands. Because the skin produces less natural oil with age, many anti-aging face moisturizers come in cream formulas. Products intended to treat skin conditions such as rashes and eczema are also often creams.
Tip: Creams that contain ceramides, such as CeraVe Moisturizing Cream, help shore up the skin's barrier function. If you're developing irritation from wearing a face mask, try applying a cream that contains a ceramide before you put your mask on.
Recommended products:
Olay Regenerist Ultra Rich Moisturizer (face)
Eucerin Original Healing Cream (body)
CeraVe Moisturizing Cream (body)
Eucerin Advanced Repair Hand Cream (hands)
Balms
Balms are thicker than creams but not quite as thick as ointments. Unlike creams, they don't contain water. Their texture is typically paste-like or waxy. Beeswax is a common ingredient.
Uses: Lip and foot balm are among the most common balms. Many anti-chafing and blister-blocking products are available as balms.
Tip: For men with dry skin, beard balm is a great way to keep the skin under a beard moisturized.
Recommended products:
Aveeno Cracked Skin Relief CICA Balm
Aveeno Eczema Therapy Itch Relief Balm
Ointment vs. cream
Creams are thicker than lotions, and ointments are thicker still, and greasier. An occlusive such as mineral oil or petrolatum (petroleum jelly) is the main ingredient. Medicated products such as topical antibiotics often come in ointment form because ointments stay on the skin longer.
Uses: Ointments are beneficial for very dry, chapped or cracked areas of skin, such as dry heels and psoriasis patches. The ointment is also a good choice for people whose hands are very dry and chapped due to frequent hand-washing. For dry, chapped lips, ointments keep moisture sealed in longer than waxes or balms do. An ointment may be applied to a minor wound before a bandage is placed on it to help seal in moisture, which aids in healing.
Tip: If you find ointments too greasy to use during the day, use a cream during the day and an ointment at night, under a pair of cotton gloves or socks. ​For extreme hydration, an ointment can be applied under occlusion with the guidance of your healthcare professional.
Recommended products:
Aquaphor Healing Ointment
Vaseline Healing Jelly Original
Vanicream Moisturizing Ointment
CeraVe Healing Ointment
Vaseline Lip Therapy
Neosporin Lip Health Overnight Renewal Therapy
Article Written By Jessica Brown, a health and science writer/editor based in Brooklyn, New York. Her work has appeared in Prevention, Johnson & Johnson, the Breast Cancer Research Foundation, and many more.