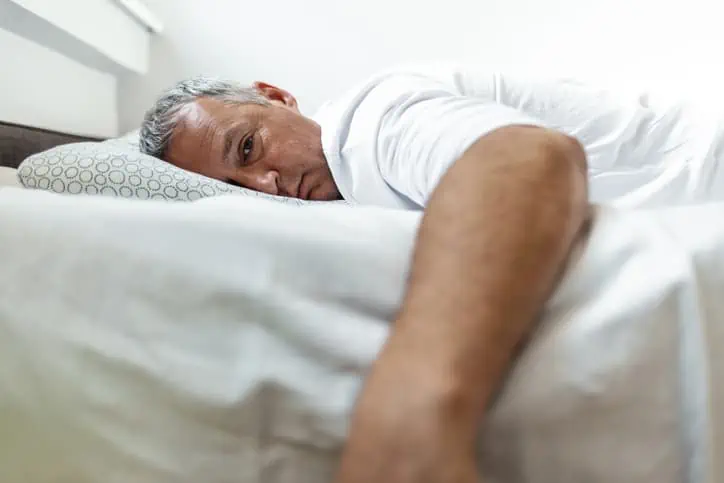 Medical Review By: Marianne Pineda, PA-C
How many times has this happened to you: You're in bed, trying to wind down and drift into sleep, and suddenly your skin starts itching — maybe so much so that it's hard to fall asleep or stay asleep.
You're not alone. Itchy skin at night, which doctors call nocturnal pruritus, is fairly common. The causes are not completely understood, but these factors play a role.
Circadian rhythm
You can blame nocturnal itching in part on your body's circadian rhythms. These are cycles that repeat every 24 hours, controlled by a "master clock" in the brain. Circadian rhythms influence sleepiness and wakefulness, hormonal activity, hunger, digestion and body temperature, among other things.
In the evening, the body releases more heat, and blood flow to the skin increases, which may contribute to nighttime itching. In addition, skin loses water at night, resulting in dryness that can make you itchy. That water loss is likely due to nighttime changes in the skin's barrier function, which could also let in more irritants.
Inflammation may also play a role. At night, the body releases more cytokines, which are immune system proteins that create inflammation. This can cause itching or make itching worse. At the same time, the body's production of corticosteroids, which tame inflammation, declines.
It's also possible that you simply notice itching more when you're in bed trying to sleep than when you're busy and distracted during the day.
Health conditions
Itching related to certain health conditions can be worse at night.
Common skin conditions. These include psoriasis, eczema and dry skin. Older people are more susceptible to nighttime itching in part because the skin tends to dry out with age.
Mental health issues. Stress and anxiety can contribute to nighttime itching, as can depression and schizophrenia.
Infestations. Bed bugs, lice and scabies all cause itching, especially at night. Bed bugs feast when you're in bed. Lice and scabies mites are also more active at night.
Hormones. Pregnancy, menopause and hyperthyroidism (too much thyroid hormone) or hypothyroidism (too little thyroid hormone) can contribute to nighttime itching.
Allergies. A food allergy could cause skin to itch at night.
Iron deficiency anemia. Some people with iron deficiency anemia have itchy skin. Other symptoms include tiredness, pale skin, shortness of breath and fast heartbeat.
Chronic idiopathic pruritis. This condition, whose name means chronic itching with no known cause, can be especially challenging because it can significantly worsen a person's quality of life, and yet the best treatments remain unknown. A team that includes an allergist, an immunologist and a dermatologist can work together and order lab tests, such as blood tests and even chest X-rays, to identify possible underlying triggers.
In some cases, itching, including nighttime itching, can be a sign of a serious condition such as liver or kidney disease, HIV or certain cancers such as leukemia and lymphoma. It can also stem from nerve problems, such as diabetic neuropathy (nerve damage from diabetes), multiple sclerosis or shingles.
Opioids, used to treat serious pain, can also cause itching.
Home remedies for nighttime itching
Oftentimes, simple home remedies can ease the itching.
Avoid caffeine and alcohol in the evening, since they widen blood vessels, which sends more blood to the skin.
If you use a scented soap or deodorant soap, switch to a gentle, fragrance-free moisturizing soap or non-soap cleanser.
Apply a fragrance-free, alcohol-free moisturizing lotion such as Cetaphil, Eucerin or CeraVe during the day and after bathing.
Before bedtime, taking a lukewarm shower or bath (try adding colloidal oatmeal) or applying cool compresses to your skin can be helpful.
Consider running a fan in your bedroom to distract you from the itch. Keep your bedroom cool (below 70°F), and use a humidifier if the air is too dry.
Wear loose pajamas made of a soft material such as cotton or silk.
If you think stress might be contributing to your itching, try yoga, meditation, stretching, deep breathing or progressive muscle relaxation before bed.
Scratching can make itching worse, but the urge to scratch can be hard to resist. If you can't keep yourself from scratching, trim your fingernails and consider wearing cotton gloves to bed.
When to see a doctor
If your nighttime itching lasts longer than two weeks and home remedies don't help, talk to your doctor. Itching that interferes with your sleep, affects your entire body or is accompanied by other symptoms such as fever, tiredness or weight loss should be evaluated.
Treatment depends on the cause of the itching. Your doctor may recommend over-the-counter medications such as corticosteroid cream, allergy medication or melatonin to help you sleep.
In some cases, prescription medication may be necessary. Options include stronger corticosteroid creams and pills, antidepressants that have a sedative effect, immunosuppressants (to reduce inflammation), hormone replacement therapy and various drugs that help treat insomnia and reduce anxiety or itching.
Article Written By: Jessica Brown, a health and science writer/editor based in Brooklyn, New York. She has written for Prevention magazine, jnj.com, BCRF.org and many other outlets.