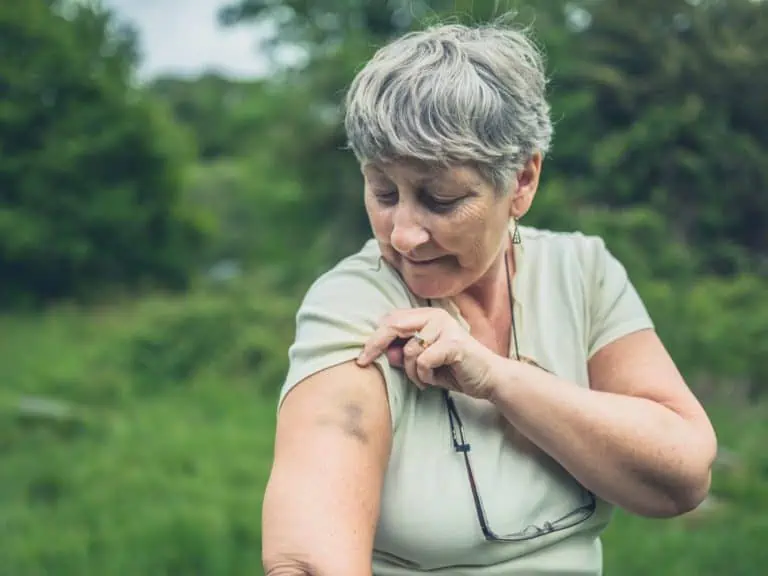 Medically Reviewed By: Brian Klein, PA-C
If you're bruising easily, even when you don't remember banging yourself, you're not alone, especially if your younger days are behind you. Often, the answer to "why do I bruise so easily?" is thin skin. 
"In many cases, easy bruising is due to normal skin aging," said Brian Klein, PA-C, a physician assistant at Water's Edge Dermatology. "You usually see it when you're in your 70s or sometimes as early as your 60s, which is when your skin is naturally getting thinner."
Age-related causes of easy bruising
As you get older, your skin produces less collagen, a protein that keeps skin looking firm and plump. When collagen production declines, the dermis — the middle layer of skin that makes up 90% of skin's thickness — shrinks. The layer of fat beneath the skin also diminishes. In a nutshell, thin skin is the reason many seniors bruise easily. 
Eventually, skin becomes fragile and crepe-like to the point that you can easily see structures such as tendons and capillaries in certain areas of your body, including your hands and arms.
"As collagen and fat decrease, the blood vessels lose the cushioning that once protected them from injuries," Klein said. As a result, vessels become damaged more easily and leak blood that pools under the skin, causing a bruise.

To make matters worse, the blood vessels in the dermis weaken over time, so even the slightest trauma can rupture them and lead to substantial bruising.
RELATED: 8 Common Skin Conditions in Elderly Adults
Other causes of easy bruising
Aging isn't always to blame for easy bruising. Here are other possible culprits. If you're younger and you bruise easily, talk with your doctor. 
Nutritional deficiencies
You may bruise easily if you're low in vitamin C or vitamin K. These vitamins are important for blood clotting. A doctor can diagnose nutritional deficiencies with a blood test.
Health conditions
Among the health conditions that may cause easy bruising are: 
Bleeding disorders such as hemophilia and von Willebrand disease 

Endocrine disorders such as Cushing's disease

Genetic disorders such as Marfan syndrome

Connective tissue disorders such as Ehlers-Danlos syndrome 

Certain types of cancer, including leukemia

Liver disease
Medications and supplements 
You may bruise easily if you take medications that reduce the blood's ability to clot, including aspirin and prescription blood thinners. Other medications that may lead to easy bruising include ibuprofen, naproxen, certain antibiotics, corticosteroids, glucocorticoids, and antidepressants. Don't stop taking any prescription medicine without talking to your doctor first.
Some supplements can also impair blood clotting and cause easy bruising. These include fish oil, gingko, and ginseng.
Alcohol abuse
Excessive drinking can lead to serious liver diseases such as cirrhosis, which can prevent the liver from producing proteins necessary for blood clotting. As cirrhosis worsens, easy bruising may develop.
How to treat a bruise 
Most bruises fade with time. How long does a bruise take to heal? 
"If it's on your face, it will usually fade in a week, whereas bruises on your legs may take two to four weeks to go away," Klein said. "But the healing process may take longer if you're older and have thin skin."
If you bruise easily, these tips can help you speed up the healing. 
Use the RICE technique right away
RICE (rest, ice, compress, elevate) enhances the healing process. Rest and elevate the bruised area and apply an ice pack wrapped in a thin towel for 10 to 20 minutes several times a day. If the area is swollen, use an elastic bandage to compress it.  Wrap it snugly but not so tight that it cuts off circulation. 
Apply Dermaka cream to the injured area
"Dermaka cream contains many natural ingredients that have been shown to reduce bruising, such as arnica, bromelain, and vitamins A and E," Klein said. It works even better than arnica alone.
How to minimize bruising 
In most cases, there isn't a lot you can do to reverse easy bruising, but depending on your situation, these strategies may help. 
Wear sunscreen every day. Ultraviolet light from the sun breaks down collagen, accelerating thinning of the skin and leaving blood vessels more vulnerable to injury. Apply a broad-spectrum sunscreen with an SPF of at least 30.
Reconsider taking supplements. "When it comes to supplements that cause easy bruising, talk to your doctor to see if you really need to take them," advised Klein.
Get treatment for alcoholism or cirrhosis. If you abuse alcohol, talk to your doctor about ways to quit. It's also very important to see your doctor if you have signs or symptoms of cirrhosis. Early signs and symptoms include unintended weight loss, poor appetite, nausea, vomiting and mild pain in the upper right side of the abdomen.
Quit smoking. The chemicals in cigarettes interfere with collagen production and slow the healing of skin injuries.
Article Written By: Jessica Brown, a health and science writer/editor based in Nanuet, New York. She has written for Prevention magazine, jnj.com, BCRF.org, and many other outlets.