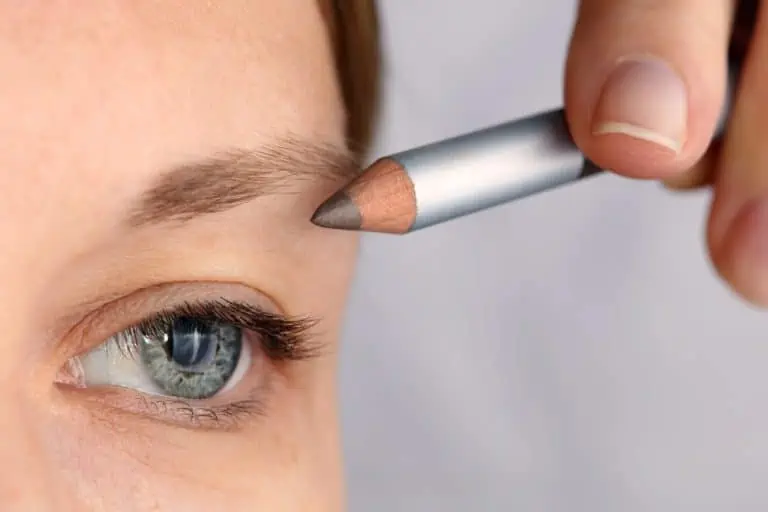 Medically Reviewed By: Ted Schiff, MD
Are thinning eyebrows making you regret all the plucking you did in your younger years? If your eyebrows are pulling a disappearing act, you're not alone — eyebrow hair loss is common after a certain age. Here's what to know about why eyebrow thinning happens, and when it might signal an underlying condition. 
Why are my eyebrows thinning?
Blame most cases of eyebrow thinning on aging. Eyebrows start to look sparse due to the natural decline of testosterone (in men) and estrogen (in women) that begins in the 40s. Both of these hormones affect the hair growth cycle and the structure of the hair follicles. Eyebrows thin over time as the hair shafts become finer and some of the follicles stop producing hair.
While aging is a common cause of eyebrow hair loss, many other factors can contribute to eyebrow patchiness and thinning. 
Skin conditions
When they affect the eye area, contact dermatitis, atopic dermatitis and seborrheic dermatitis can thin your eyebrows. All three cause itching, so you may lose eyebrow hair if you're constantly scratching and rubbing. Atopic dermatitis and contact dermatitis also cause inflammation that can interfere with normal eyebrow hair growth.
Tinea capitis (ringworm), a fungal infection of the skin, can thin your eyebrows if its telltale red and ring-like patches develop on the brow.
Thyroid disorders
If your thyroid gland is secreting too little thyroid hormone (hypothyroidism) or too much thyroid hormone (hyperthyroidism), this can interfere with normal hair follicle functioning, leading to thin eyebrows.
Pregnancy and childbirth
Thanks to fluctuating hormone levels, eyebrows may thin during pregnancy and the postpartum period.
Nutrient deficiencies
What you eat can affect the health of your hair. Eyebrow hairs may fall out if you're not getting enough protein, zinc, biotin or iron.
Telogen effluvium
This form of temporary hair loss most commonly affects the hair on the scalp, but in severe cases it can cause eyebrow hair loss as well. Telogen effluvium develops in response to stress caused by surgery, infections and other physically taxing events.
Autoimmune diseases
Eyebrows may look patchy if you have alopecia areata, an autoimmune disease in which the immune system attacks the hair follicles, slowing or stopping hair production. Another type of alopecia, frontal fibrosing alopecia, can cause eyebrows to disappear. Other autoimmune diseases that lead to eyebrow thinning or loss include psoriasis and certain forms of lupus.
Medication
Undergoing chemotherapy sometimes causes eyebrow thinning because the drugs damage the hair follicles. Other medications that can cause eyebrow loss include anti-thyroid drugs, cholesterol-lowering drugs, blood thinners and valproic acid, used to treat seizures and bipolar disorder.
Trauma
Burns and injuries to the eyebrow can cause hair to fall out.
Over-tweezing or pulling

Over time, tweezing your eyebrows can damage the hair follicles, impairing hair regrowth. So can pulling out the eyebrow hairs, something people with a hair pulling condition called trichotillomania may do. If the follicles become scarred, the hair may not grow back.
How to treat eyebrow thinning

In some cases, your eyebrows will grow back over time, particularly if your eyebrow thinning was caused by telogen effluvium or another non-scarring condition. The treatments below encourage eyebrow hair regrowth.
Latisse
Your doctor may recommend the prescription treatment Latisse to help restore thinning eyebrows. It's FDA-approved to treat thin eyelashes, but studies suggest it can be used off-label to regrow eyebrows.
Rogaine
Minoxidil (Rogaine), which is available over the counter, isn't intended for eyebrows, but some people use it there. Use the 2% solution and apply it to your brows with a cotton swab. Be extremely careful not to get it in your eyes, and don't get it on other areas of your face or you could see unwanted hair growth there.  
Corticosteroids and Anthralin
If you lost your eyebrows due to alopecia areata, your doctor may recommend injecting the areas with corticosteroids to encourage hair regrowth. Anthralin, a topical anti-inflammatory cream used to treat psoriasis, can also be helpful for people with eyebrow hair loss caused by alopecia areata and other inflammatory conditions.
Making thin eyebrows look thicker 
While you're waiting, or hoping, for your eyebrow hair to grow back, there's plenty you can to do to make your eyebrows look thicker and fuller.
Eyebrow makeup
Tinted brow mascara, eyebrow pencils, pens, powders and pomade fill in sparse eyebrows.
Microblading and microshading
These semi-permanent makeup treatments can make brows look fuller for months. During a microblading session, a cosmetic technician applies pigment in natural, hair-like strokes to the skin under your brows with a blade. If you prefer the look of powdered brows, opt for microshading, in which the pigment is applied in tiny dots. Microblading lasts for six to eight months, while microshading lasts for three to six months.
Hair dye
Permanent or semipermanent hair dye can make your eyebrows look fuller and thicker. Getting hair dye in your eyes is a major no-no, so if you want to dye your eyebrows, have a licensed medical aesthetician do it.
Hair transplant
This is the most permanent solution for eyebrow hair loss. A plastic surgeon extracts hair follicles from your head and places them in tiny slits made in your eyebrows. The procedure is very time-consuming, and more than one treatment session is usually necessary. Eyebrow transplant surgery is also expensive, though it may be covered by health insurance if you lost your eyebrows due to an accident or health condition.
Article Written By: Jessica Brown, a health and science writer/editor based in Nanuet, New York. She has written for Prevention magazine, jnj.com, BCRF.org, and many other outlets.