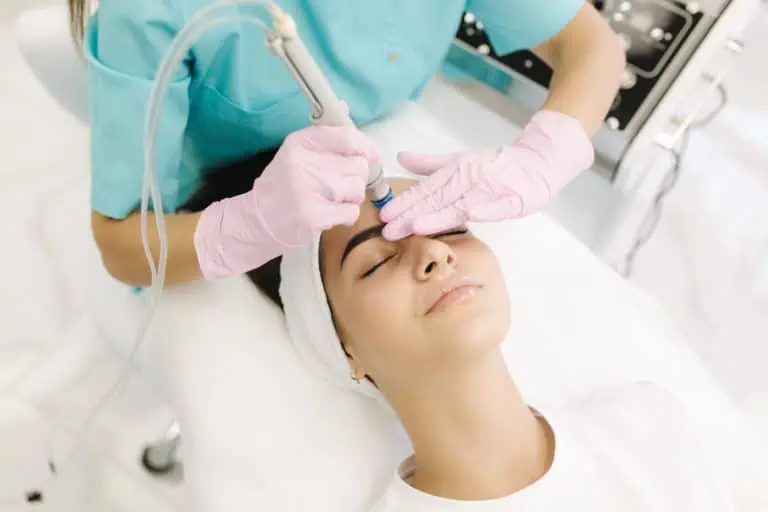 Medically reviewed by: Shawna Sopher, Licensed Medical Aesthetician
Tired of dealing with rough-textured skin that makes you look older? Many types of facials can help skin look smoother, but if you're looking for a more powerful, medical grade cosmetic treatment, a microdermabrasion facial or HydraFacial MD is the way to go. Dermatologists increasingly recommend a HydraFacial vs. microdermabrasion because it's a gentler and more customizable method of skin resurfacing.
"Both treatments make your face look smoother by exfoliating the top layer of skin," said Shawna Sopher, a licensed medical aesthetician at Water's Edge Dermatology. "But HydraFacials are often preferred because they're more effective at treating certain skin issues, such as hyperpigmentation. And unlike a microdermabrasion facial, HydraFacial MD is safe for nearly all skin types." 
Here are the details on both types of facial. 
What is microdermabrasion?
A microdermabrasion facial exfoliates the skin in a way that Sopher likens to sandblasting. During a treatment session, the provider removes the top layer skin with a pen-like device that has either a diamond tip that "sands" the skin or a tip that sprays fine crystals on the skin to dislodge dead cells. These devices also suction away the loosened cells as well as other debris that may be clogging your pores, such as dirt and makeup.

A microdermabrasion facial is a gentler version of dermabrasion, a more invasive exfoliation technique performed using a motorized wire brush or an instrument that has a diamond wheel with rough edges at the tip, called a burr. While microdermabrasion is gentler than dermabrasion, it's still too abrasive for some people.
"Microdermabrasion isn't recommended for anyone who has an acne breakout, rosacea, or thin, aging skin," Sopher said. "Another downside is that the amount of suction can be too harsh and may cause broken blood vessels."
Microdermabrasion benefits
The benefits of microdermabrasion include smoothing the skin, reducing fine lines, wrinkles, and enlarged pores, and improving the appearance of age spots, hyperpigmentation, and acne scars. However, according to Sopher, microdermabrasion is less effective against some of these problems, including hyperpigmentation, than HydraFacial MD.
What is a HydraFacial?
HydraFacial MD is a multi-step procedure that offers the benefits of microdermabrasion but relies more on chemical exfoliation than physical exfoliation. "It's sort of a combination of microdermabrasion and a chemical peel," said Sopher.
One of the advantages of a HydraFacial is that it does more than just exfoliate. During the first step, the provider uses a wand-like instrument to cleanse your skin and apply a peel that contains ingredients that exfoliate and hydrates, such as lactic acid and glucosamine. During step two, the wand delivers a combination of glycolic acid and salicylic acid to loosen dirt and debris that may be clogging your pores, which is removed using vacuum suction in step three. Last, the wand infuses your skin with peptides and hyaluronic acid so it looks plump and youthful. 
HyraFacial benefits 
As with microdermabrasion, the benefits of HydraFacial MD include smoothing the skin, reducing fine lines, wrinkles, and enlarged pores, and improving the appearance of age spots, hyperpigmentation, and acne scars. The combination of physical exfoliation and skin-brightening acids makes HydraFacial MD more effective at addressing issues such as dark spots, said Sopher. 
A HydraFacial is also gentler on the skin than a microdermabrasion facial because the level of suction can be adjusted. Plus, the concentration of the acids can be customized. As a result, HydraFacials are safe for nearly every skin type. The lone exception is if you have an acne breakout that's infected, but you can get a HydraFacial once your skin has healed.
"With a HydraFacial, you can also request add-on 'booster' treatments that are tailored to your skin concerns to enhance the results," said Sopher. Examples include a retinol booster serum to minimize wrinkles and a vitamin C serum to make dark spots less noticeable.
Hydrafacial vs. microdermabrasion: Downtime, follow-up sessions, and more
HydraFacials provide instant gratification. "Your skin looks dewy and pretty right away, whereas it may be little red and swollen following microdermabrasion," said Sopher. Those microdermabrasion side effects usually resolve within a matter of hours, however.
For best results, both microdermabrasion facials and HydraFacials need to be repeated. Most people should get a HydraFacial every three to four months, but you can get them more often if you have oily skin. If you choose microdermabrasion, you can choose to get just one treatment before a special event to brighten and soften your skin, but if you want to tackle specific skin concerns, a series of five to 16 sessions is recommended. The sessions may be performed weekly, every other week, or once a month depending on how much time your skin needs to recover.
Both treatments take about an hour. The cost of microdermabrasion and HydraFacial MD is similar, though the price varies depending on where you live. Keep in mind that you may have a harder time finding a dermatology practice that offers microdermabrasion because many practitioners consider HydraFacial MD to be the superior treatment. Sopher, for example, no longer performs microdermabrasion. 
Article Written By: Jessica Brown, a health and science writer/editor based in Nanuet, New York. She has written for Prevention magazine, jnj.com, BCRF.org, and many other outlets.