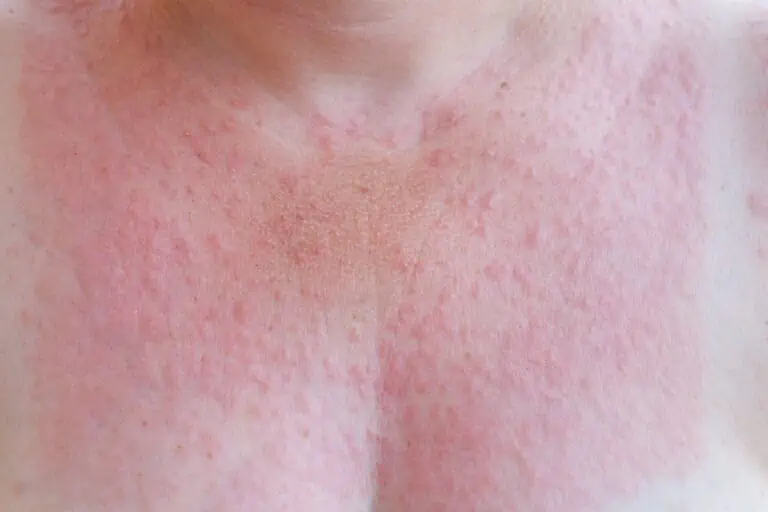 Medically reviewed by Ted Schiff, MD 
Does the sun disagree with your skin? If you got an itchy sun rash or an especially painful sunburn after soaking up some rays, you may have photosensitivity, which simply means your skin is extra sensitive to the sun. That sensitivity could be caused by a sun allergy or by an antibiotic or other medicine you take. 
Your dermatologist can help solve the mystery of what type of photosensitivity you have and what's causing it, as well as prescribe treatment to relieve your symptoms. 
Types of photosensitivity: Sun allergy vs. phototoxicity
Most sun rashes are phototoxicity rashes. These happen when ultraviolet (UV) rays interact with a drug you've taken or a product you've put on your skin. The rays transform one of the ingredients into a skin-damaging chemical. A phototoxic reaction often includes an unusually painful sunburn with itching and swelling. It may or may not include a rash.
Sun allergy rashes are much less common. "Sun allergy" is a catch-all term for reactions to the sun that involve the immune system. In one type of sun allergy, a product you apply to your skin interacts with UV rays, causing changes in the skin that prompt the immune system to launch an attack. "Sun allergy" can also mean an allergic condition you inherited in your genes. Polymorphic light eruption, or PMLE, may be one example, though its cause isn't clear.
You may be more likely to develop photosensitivity if you have lupus, psoriasis, rosacea or another sun-sensitizing disease.
What does a photosensitivity rash look like?
Phototoxic and photoallergic (sun allergy) reactions share some symptoms, such as skin redness, so it can sometimes be tricky to tell them apart. But there are a few differences. 
Phototoxic reactions include red, inflamed, painful skin, and in some cases, brown or blue-gray skin discoloration as well as a rash. 
A sun allergy reaction can cause itching, scaling, blisters and bumps that look like hives. Unlike phototoxic reactions, a sun allergy rash can appear on parts of the body that weren't exposed to the sun.
How quickly the rash appears can help determine its cause. Sun allergy reactions appear several days after UV exposure, while phototoxic reactions typically show up within a few minutes or hours. 
List of sun-sensitive medications
Many types of medications can cause photosensitivity in some people. If a medication causes a sun rash or sunburn once, it's doesn't necessarily mean it will cause more reactions in the future.
Topical medications
Topical medications including the ones below can cause a sun allergy rash or phototoxic reaction.
Prescription retinoids and over-the-counter retinols, found in acne and anti-wrinkle products

Alpha-hydroxy acids, found in products that brighten and smooth the skin

Benzoyl peroxide, found in acne products

Products that contain vitamin C

The sunscreen ingredients avobenzone and oxybenzone

Topical psoralens used in PUVA, a form of light therapy used to treat

vitiligo

and other skin conditions 
Oral medications
These oral medications may cause sun sensitivity and serious sunburn.
Non-steroidal anti-inflammatory drugs including ibuprofen and naproxen 

Antihistamines including cetirizine, diphenhydramine and loratadine

Oral contraceptives

Certain antidepressants, including paroxetine (Paxil) and amitriptyline (Elavil)

Cholesterol-lowering statins 

The antibiotics ciprofloxacin, doxycycline, levofloxacin, ofloxacin, tetracycline and trimethoprim

Antifungals (flucytosine, griseofulvin, voriconazole)

Many diuretics, including hydrochlorothiazide, chlorthalidone, chlorothiazide, furosemide and triamterene

Sulfonylureas, used to treat type 2 diabetes

Phenothiazines, used to treat

psychotic disorders

and severe vomiting 

Oral psoralens (methoxsalen), used in PUVA therapy to treat conditions such as vitiligo 

Sulfonamides including acetazolamide, sulfadiazine, sulfamethizole, sulfamethoxazole, sulfasalazine and sulfisoxazole, often used to treat bacterial infections
How to treat a sun rash
How you treat your sun rash or burn depends on the severity and cause of your symptoms. Staying out of the sun (and tannings beds) for a day or two while your rash or burn heals is a must. For mild photosensitivity reactions, sun avoidance and cool compresses may be all the treatment you need. Other photosensitivity rash treatments include the ones below.
If you aren't sure what's causing your photosensitivity, or you have a severe reaction, see a dermatologist. You should also make an appointment if your skin blisters or if you have flu-like symptoms such as fever and nausea, which may be signs of a second-degree sunburn.
Sun rash medicines
In mild cases, applying an over-the-counter corticosteroid cream can help relieve symptoms such as itching. For a more severe sun rash, your dermatologist may prescribe a stronger corticosteroid cream, or a brief course of an oral corticosteroid such as prednisone. Hydroxychloroquine, a drug used to treat malaria, may be prescribed in certain circumstances, such as if you have PMLE.
Phototherapy
If you have PLME, you probably have the worst symptoms the first time you go out in the sun when the weather turns nice. After that, the reactions become milder as your skin gets used to the UV rays. To help prevent the initial reactions, your dermatologist may recommend phototherapy. In this in-office procedure, your skin is exposed to UV rays generated by a special lamp. Repeated, controlled exposures can help your skin adapt to sunlight.
How to avoid a sun rash
If your sun rash or burn is caused by a medication or skin care product, the simplest way to avoid another one is to stop taking the drug or using the product, if that's possible. Of course, it often isn't. (Never skip taking an antibiotic or birth control pill.) 
When it isn't possible, stay out of the sun as much as possible. If you must be in the sun, use sunscreen with an SPF of at least 30 (one that doesn't contain avobenzone or oxybenzone) and wear sun-protective clothing and a broad-brimmed hat.
Written by Jessica Brown, a health and science writer/editor based in Nanuet, New York. She has written for Prevention magazine, jnj.com, BCRF.org, and many other outlets.